About MICA
MICA is a professional trade organization representing qualified commercial interior contractors performing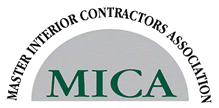 work in the Greater Pittsburgh region. MICA members share a common mission: to provide their customers with the highest quality craftsmanship. Therefore, we are union employers who partner with the union trades that supplies the best trained, safest and most productive craftsmen in the industry. MICA negotiates labor contracts with International Union of Painters & Allied Trades District Council 57 of Western Pennsylvania and Operative Plasterers & Cement Masons Local Union #31.
MICA Executive Board
Fredrick T. Episcopo - Wyatt, Incorporated (MICA President)
Neal Rivers - Easley & Rivers, Inc.(MICA Vice President)
Dave Balmert - J.J. Morris & Sons, Inc. (MICA Treasurer)
Daryl Pitzer - RAM Acoustical Corporation (MICA Secretary)
MICA Members
Alliance Drywall Interiors, Inc.
Easley & Rivers, Inc.
Giffin Interior & Fixture, Inc.
J.J. Morris & Sons, Inc.
JLJI Enterprises
Precision Builders, Inc.
RAM Acoustical Corporation
Schlaegle Design Build Associates, Inc.
T.D. Patrinos Painting & Contracting
Wyatt, Inc.
MICA Gives Back
Annual Scholarship to a Union Trade Apprentice – The goal of this scholarship program is to not only provide much needed financial assistance but to also familiarize potential future leaders with our region's union construction community.
Rebuilding Together Pittsburgh – Annually, MICA sponsors a Rebuilding Together Pittsburgh house to renovate, assuring a low-income elderly or disabled homeowner lives in a warm and safe home.
Many Initiatives of the MBA – MICA is always ready and able to assist the many initiatives of the MBA. Whether it be donating skilled craftsmen for a charitable cause or serving on a labor-management committee, MICA members are excellent ambassadors of the MBA.
Contact MICA
Tel: 412.922.4750
Mail: MICA, 631 Iron City Drive, Pittsburgh, PA 15205