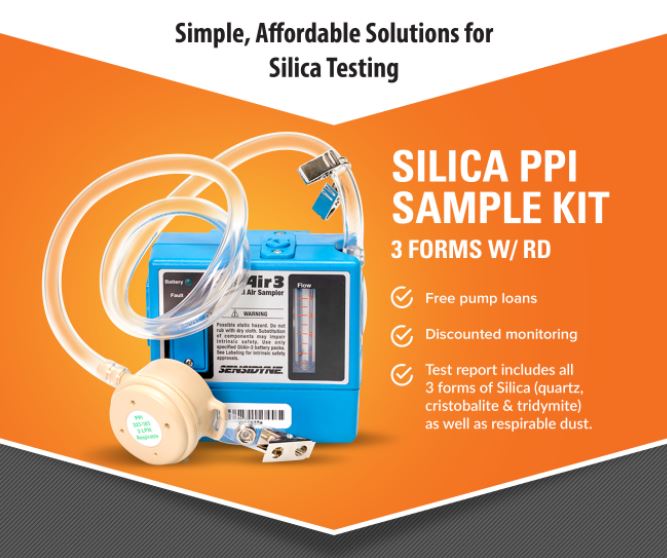 In light of the recent OSHA Silica Standard enforcement date, the MBA is providing our contractor members with discounted pricing on monitoring equipment and access to a searchable sampling database. Participating contractors can rely on the database to manage employee safety and multiple-contractor activities where job tasks produce respirable silica emissions.
How the program works:
Member's order the necessary equipment and testing materials by phone or Email.
Equipment arrives in a special box (don't throw it out) via USPS, UPS, Fed-Ex.
Test the work area as required following the instructions provided.
Complete the chain of custody forms and submit. (instruction also provided)
Submit silica sampling tests to Galson labs (an accredited lab) for results. Using the box the unit came in
Once a contractor submits viable task-related sampling data they will be able to access the searchable database.
The results will be returned to the subscriber allowing them to determine the next compliant course of action for their worksite.
What is included in the program?
Access to free pump loans and discounted monitoring test materials.
Technical support via facetime, e-mail or phone.
A copy of the OSHA directive highlighting some of the requirements for Citations and inspectors.
A written Respirable Crystalline Silica Policy template. (required to have on site)
Links to aid in creating a work plan for silica compliance.
Silica code compliance checklist.
Silica planned activity checklist.
Workshop on the proper use of equipment.
Access industry-wide silica sampling
What is the cost?
Cost to participate in this program is complimentary to MBA members. Members will be required to request to be part the program by filling out the request form.
Discounted testing materials ($150 per test) and shipping costs.
Master Builders' Association Silica Program Request for Participation Form (PDF)
Galson's Instructional Video Gallery